Gulliver is based on Tourism Tracer technology developed by the University of Tasmania which has been used to track tourists around the world:
Tasmania
In Tasmania we successfully recruited and tracked 1500 tourists throughout their trips to Tasmania, the first time tourists had been successfully tracked over such a long period and over such a large area anywhere in the world.
Using the Gulliver research app promoted at the points of entry to Tasmania, we gathered unprecedented insights into where groups of visitors go, how they move around, and what influences their decisions.
For the first time, we had the ability to track how travel patterns differ according to age, home country, length of stay, reason for travel, etc. We can see detailed information on how long someone stands at a lookout, walks through a national park or browses an art gallery.
Skane, Sweden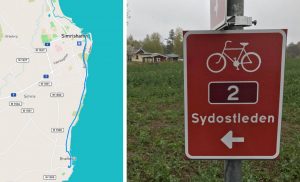 Sydostleden is one of Sweden's national biking trails stretching 300 kilometres. The trail starts (or ends) in south-eastern Skåne, in the quaint town of Simrishamn, and takes you through an ever-changing landscape to the city of Växjö in the neighbouring province of Småland.
We were commissioned by Tourism in Skane to track and survey tourists moving along the biking trail to provide information about the kind of tourists who are using the new trail and how they are using the trail (where they enter, which direction they travel etc).
Hokkaido, Japan
In January 2018, we undertook a pilot of Gulliver tracking tourists moving around Hokkaido in Northern Japan with support from AusTrade.
A group of four tourists who were traveling to Hokkaido install the Gulliver research app on their personal phones and track themselves throughout their trip.
The pilot successfully showed the opportunity to track tourists throughout Hokkaido.
Hokkaido, as with Skane and Tasmania, are interested in driving dispersal of tourists into regional areas outside main attractions.